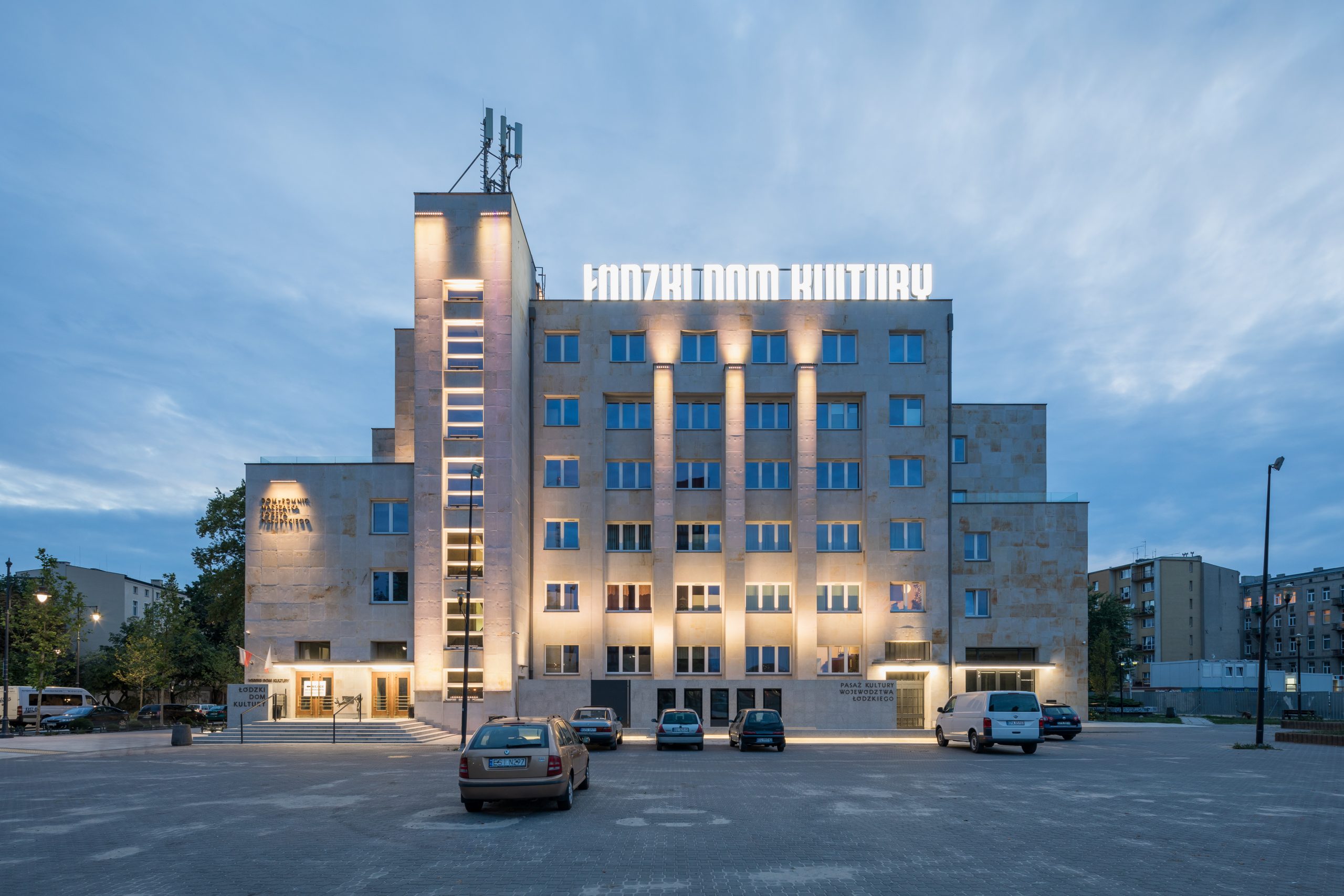 Name: Creation of the Culture Passage of the Lodz Region by the renovation of the Lodz Community Centre and its surroundings
Client: Łódź Community Centre
Location: Łódź, ul. Traugutta 18
Area: 7982 m2
Design Team: Karolina Taczalska, Maciej Taczalski Bartosz Kaciupski, Katarzyna Komoń, Joanna Miecznikowska, Wojciech Stępień, Justyna Kaźmierczak, Mateusz Lasota
Łódź Community Centre is one of the most prominent examples of modernist architecture in Łódź. The building, being a subject to conservation protection through an entry in the register of monuments, has been erected according to a design by Wiesław Lisowski, selected via a competition held in 1933 to create a Józef Piłsudski "House/Monument".
By design it was meant to fill the entirety of the site between the streets: Projektowana, Strzelecka and Sienkiewicza. However, due to the pressure of public opinion and imperative to begin construction switfly, the building was cut in length and turned around.
The substructure for the veins was localised, according to the Lisowski's original proposal, facing Traugutta Street, taking a form of translucent pillars, with greenery and benches composed of granite and timber between them. They're a part of the open-access Passage of Culture of Lodz Voievoidship, created as a part of the project. It runs along Traugutta Street, through the western terrace, the gate passes and internal patio, finally spreading across "Strzelec" Riflemen's Association in the immediate vicinity of the Łódź Fabryczna Railway Station. Previously inaccessible gate and patio passages are now an integral part of the passage and are made to promote the culture of the Łódź region.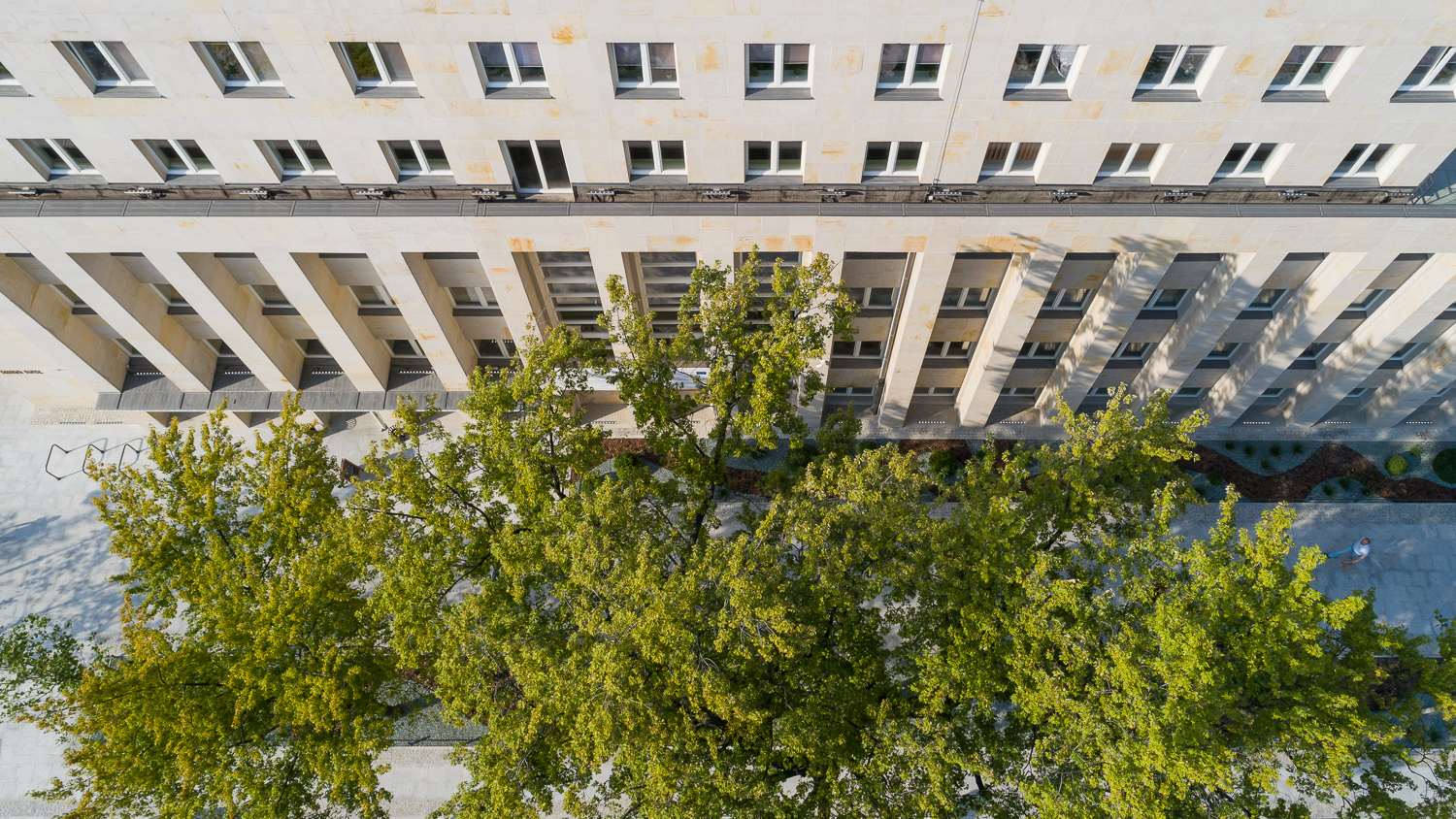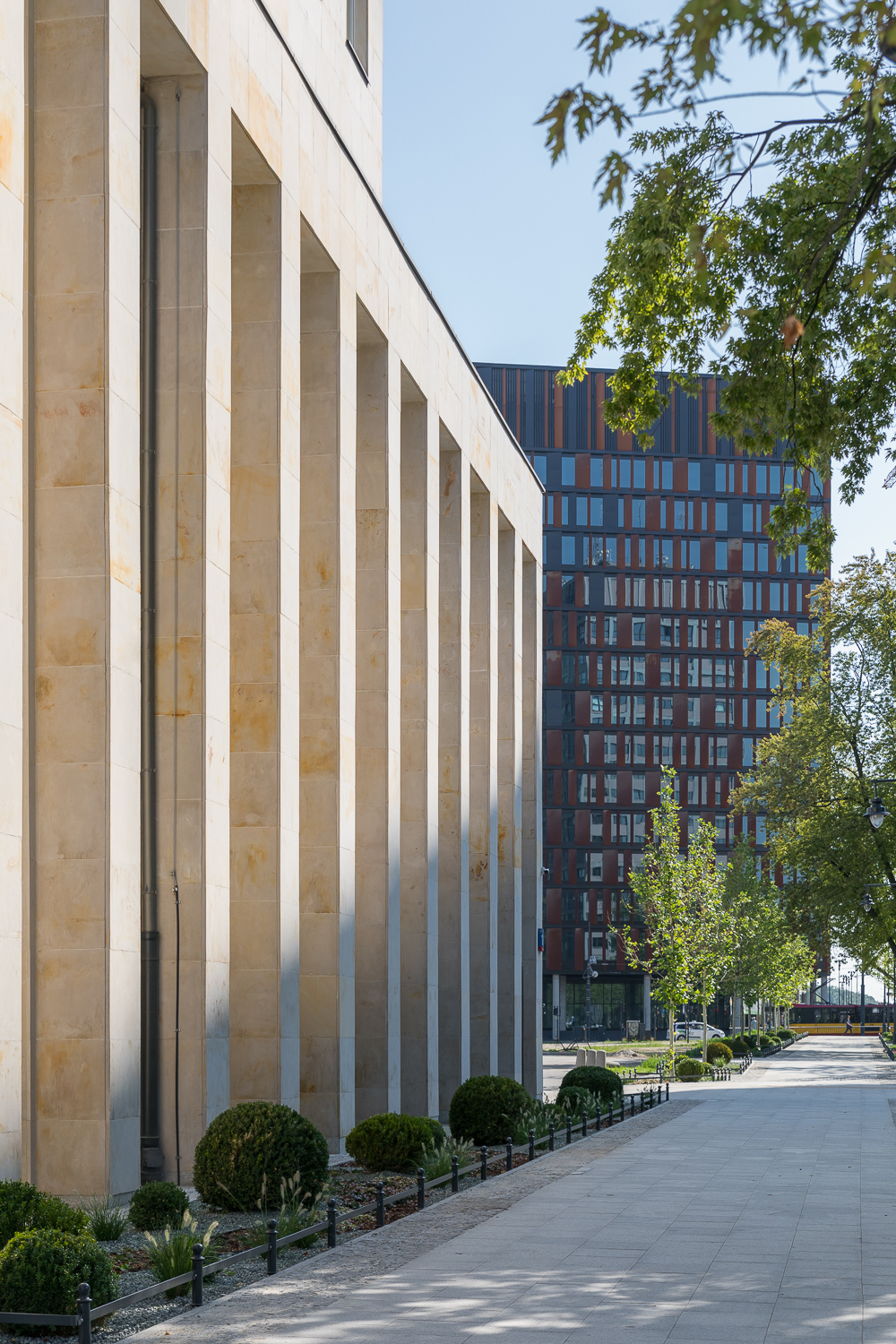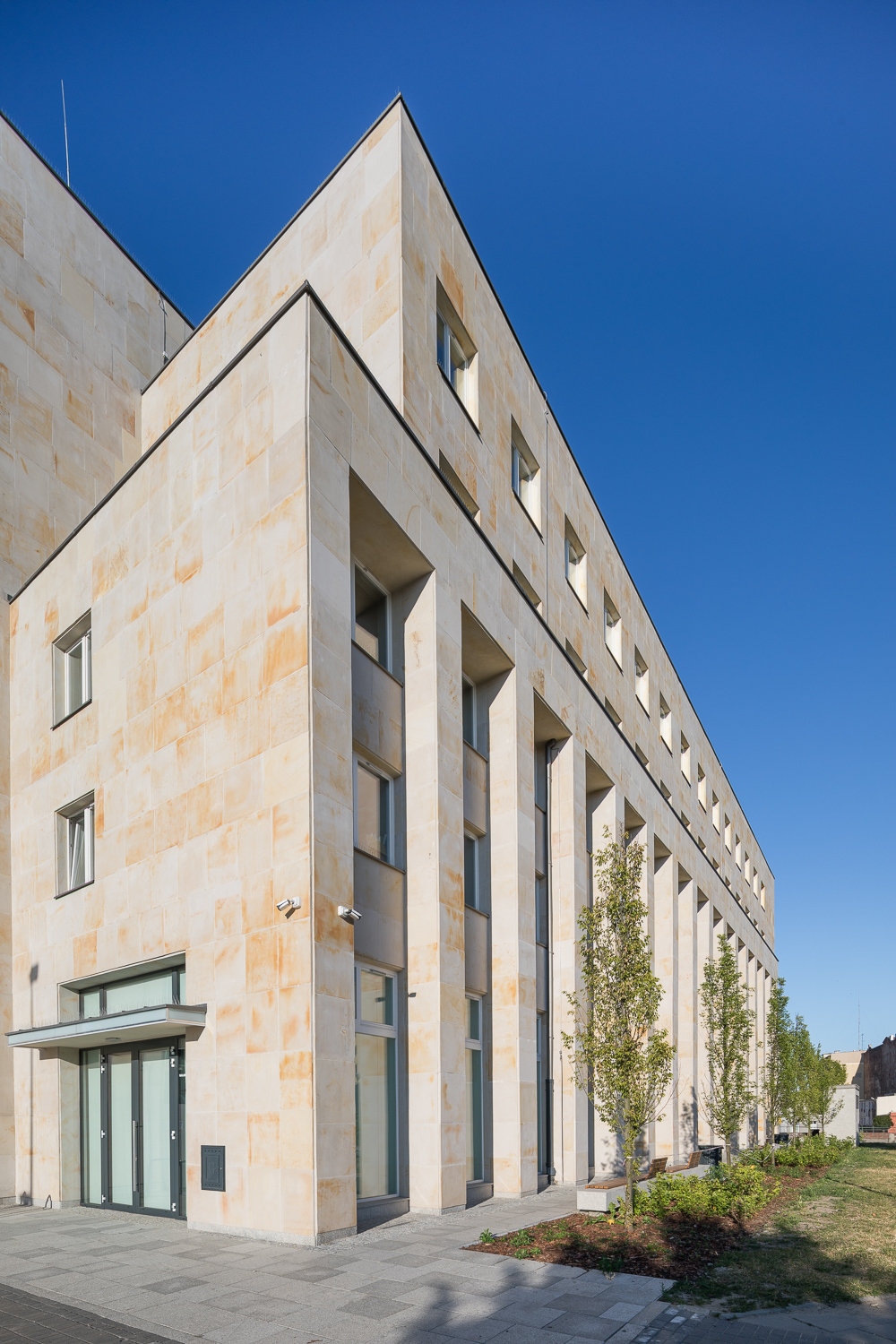 The building has undergone a comprehensive facade renovation and the foundations were insulated. The roof and internal façades in the patio have been insulated as well. Plastic windows were replaced with wooden ones, and the door fittings were recreated in their original form based on the preserved archival materials. The lightning protection and external lighting installations were also replaced, along with extension of CCTV.
There are over 200 lamps fitted on the elevations, each controlled separately. Multicoloured illumination of the building facade will allow for the implementation of various lighting schemes.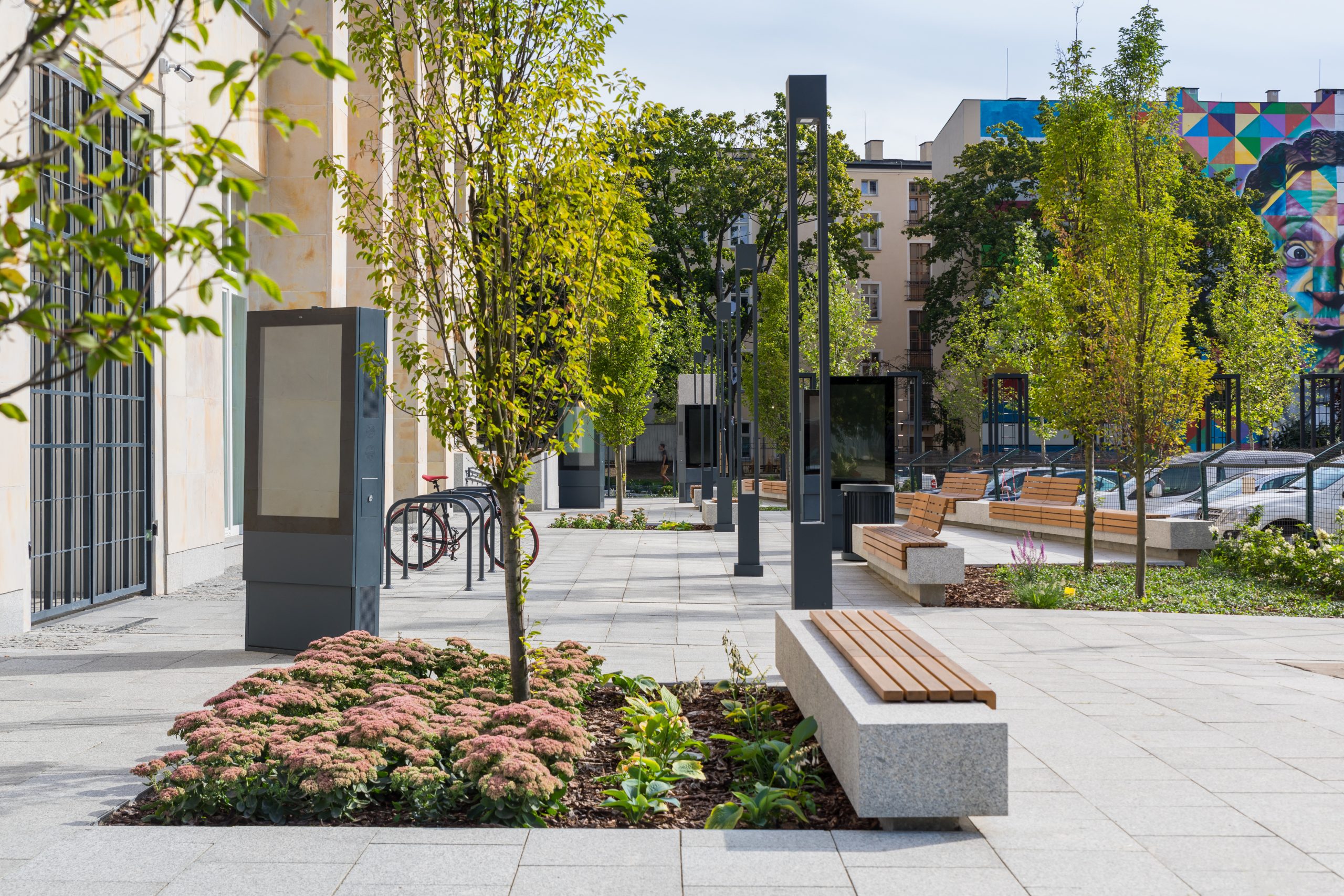 The dilapidated western terrace has been completely rebuilt. A number of double-screened pylons, connected to a "invitation" system – a motion triggered speakers placed next to the terrace exit – were placed within its bounds. It also features elements of streetscaping along with variety of plants suited for the urban environment. The building entrance was equipped with LED screens used to promote the events in the centre.
The proposal provides full accessibility support and is fitted with heated ramp next to the terrace and wheelchair platform lift at the front entrance.